Netsmartz - Our Global Parent Company
Bizzsmartz is a division of Netsmartz LLC (www.netsmartz.com) global group of companies. Since 1999, Netsmartz has been headquartered in Rochester NY and expanded to over 8 global locations with over 1000 team members. Netsmartz is focused to provide organizations IT solutions and services to suit your business needs. From CRM & ERP solutions, custom software development to infrastructure services, our dedicated team of professionals have you covered.
Learn more about Netsmartz
1999

Netsmartz founded on September 29, 1999 in Rochester, NY.
First office location is at 68 Crittenden Way, Rochester, NY.
4 employees onboard.

2000

Company moves to Farnsworth Road South, Rochester, NY.
Signs up the first client, Global Crossing, in New Jersey.

2001

Netsmartz moves to a larger office located at 3495 Winton Place, Building E, Rochester, NY.
Employee strength reaches 16.
Netsmartz sets up an offshore development center in Chandigarh, India, with 10 employees.
Netsmartz signs up new clients including Kodak and JMT Marketing.

2002

Netsmartz starts an eLearning division in addition to software development
Signs up new Fortune 500 clients for eLearning.
Netsmartz expands its employee base to 55.

2003

Netsmartz shifts to 570 Willowbrook Office Park, Fairport, NY.
Total employee count reaches 70.
Becomes a Microsoft Certified Gold Partner.
Achieves ISO 9001:2000 certification.
2004

Expands operations in India, and sets up a new development center in Mohali, India.
Total Employee headcount reaches 200.
Successfully delivers 100 projects.

2005

Netsmartz starts a new Search Engine Marketing division.
Achieves the Google AdWords and Yahoo Search Ambassador certifications.

2006

Netsmartz starts its own product research and development division.
Netsmartz becomes a global provider of custom software development and Ecommerce projects.

2007

Netsmartz is recognized by KPMG as 47th in the Rochester Top 100 list of fastest growing companies in the Rochester area.

2008

Moves the development center to a self-owned and operated 125,000 sq. feet facility at Mohali IT Park, India.
Employees Headcount reaches 400.
Netsmartz achieves SEI-CMM Level3 certification.
Launches Finishing School to train new graduates for the IT industry.
2009

Netsmartz wins the e-Revolution Award for Excellence for Highest Exports under Software Development SME category at the e-Revolution event organized by NASSCOM, STPI and the Chandigarh Administration.

2010

Netsmartz shifts into its wholly owned 20,000 sq. ft. facility at 332 Jefferson Road, Rochester, NY.
Expands its client base in Europe and Australia.

2011

Netsmartz moves into its new, wholly owned, custom-built, world class 160,000 sq. ft. offshore development facility at Chandigarh, India.
Consolidated employee headcount reaches 600.

2012

Netsmartz sets up a dedicated team for Mobile App Development.
Starts a new unit that specializes in enterprise software for the Telecom industry.

2013

Netsmartz sets up a new office at Gjekstadveien 36, 3218 Sandefjord, Oslo, Norway to handle the growth in the European market.
A new office is also setup at 16 Raffles Quay, #33-03 Hong leong Building, Singapore to cater to growing customer base in Asian markets.
Netsmartz co-founded the Startup Accelerator Chamber of Commerce (SACC) - a non-profit CSR initiative to build a startup eco-system.
2014

Netsmartz completes over 1700+ large projects in software development, eLearning, and search engine marketing.
Portfolio includes a wide variety of clients, from small businesses to Fortune 500 companies, including Nellie Mae, McGraw Hill, and Wegmans Food Markets.
Consolidated employee headcount reaches 750.

2015

Opens a new office in Brampton, Toronto.
Open a new development center at Gurgaon, India.
Netsmartz launches a Salesforce and Microsoft Dynamics implementation practice.
Netsmartz become the only authorized partner for Salesforce in northern India.
Achieves ISO 27001:2005 certification.

2016

Starts the Great Place to Work initiative. Netsmartz will be the only company in this region to become GPW certified.
Over 450 Apps developed for iPhone, Android, BlackBerry, and Windows.
Adds 200 new employees to the current strength.
Development center in Chandigarh gets a new state-of-the art gym and a colorful new cafeteria is setup.

2017

New website launched.
Netsmartz sets up a new office at 200 Spectrum Center Drive, Irvine, CA.
A new 1.1-acre facility is slated for development in Mohali, India. The facility will have open office spaces, a 120-seat auditorium, a double-height lobby, and other perks, including a daycare center, salon, cafeteria, infinity pool, and open-air theater.
Group company, Sebiz Finishing School, ramps up its strength to over 500 employees.
New practice for Office 365 to be included in the service offerings.

2018

Acquisition of Envision E-commerce and Strategic Investment in Cypherworks.
50 new FTE added to our BYT family.
Netsmartz included in the Clutch 1000 global list of B2B companies.
CloudSmartz ranked #3729 with 3 years revenue growth of 99%.
CloudSmartz was named as a Cool Vendor by Gartner.
SACC organized Punjab Startup Summit 2018.
Honorable Ram Bilas Sharma, Haryana Education Minister launched Haryana's First Startup Incubator in Panchkula with Manipal Dhariwal, Co-Founder and CEO, Netsmartz and Chapter President of SACC.
2019

The lavish new 1.1-acre facility launched at Mohali IT Park. The features included, 5-star suites, infinity pool, gym, open terrace bar, double-height lobby, 120 seater auditorium, bar/lounge/screening room/home theatre, daycare/salon/sickbay, outside seating/cafeteria/games room/therapy room/swimming pool/car wash, and open-air theatre.
Netsmartz gets featured for the 'Clutch Leader Awards 2019' in India
Cloudsmartz wins the "Most Innovative Technology Provider" 2019 pipeline innovation award.
AI conference on fostering Indo-Canadian technology collaboration, held at Netsmartz.
Netsmartz acquired Gemko Microsoft Dynamics Practice and Industry-leading construction ERP 'ProjectPro' Solution.
Netsmartz's 'Leadership Meeting' to bring together top-level executives at Kasauli Hills benchmarking, strategic initiatives and define the roadmap for upcoming prospects.
Netsmartz bestowed as an Adobe Solution Partner.
Netsmartz hosted Magento Meetup Chandigarh, 2019.
Sneak peak at our new 1.1 - acre newly launched facility at Mohali IT Park.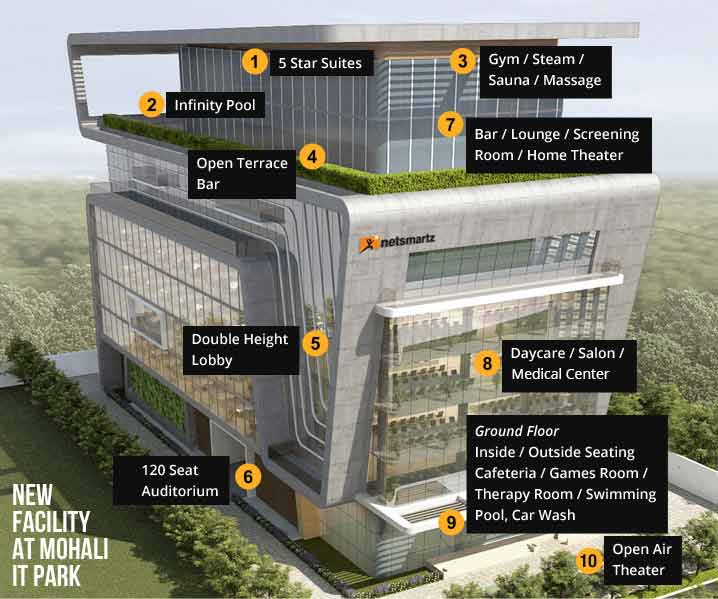 Netsmartz Acquires Gemko - Industry-leading Construction ERP ProjectPro Solution!
Starting our journey to being a Great Place to Work!